Rainbow Kids Touch Therapy and Relaxation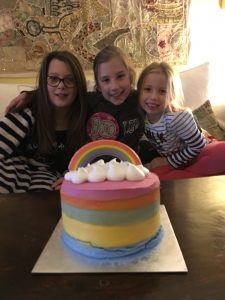 Mindfulness, magical meditations, touch therapy, guided journeys, story cards, story dice,story pebbles, relaxation,positive affirmation pathway games, story massage, kids yoga and delicious cake are just a handful of the activities enjoyed by us all at Rainbow Kids.
Scientifically proven to boost focus, attention, communication, creativity, social skills/intelligence, emotional intelligence, physical, mental and emotional wellbeing and confidence. This is then taken back into the home and the classroom! Therapeutic touch boosts not just our immunity but floods us with Serotonin the "happy hormone", Dopamine the "pleasure hormone" (which has proven links to the higher/executive brain functions) and Oxytocin, the hormone of wellbeing and nurture, a huge antidote to stress and anxiety.
80% of communication is not achieved through speech so Rainbow Kids is a safe and creative space where children feel safe to express and create in so many other ways.
Rainbow Kids currently offers Tuesdays 4.30pm – 5.30pm or Wednesdays from 5.30pm – 6.30 pm in Porlock, all ages welcome. You're never too young and you're never too old to join us in the chalet at the end of the rainbow. £5.00 per child per session.Private one to one, parent and child, family sessions or small ,closed ,private Rainbow Kids sessions for are also available on request.
Rainbow Kids is also fully portable and can come to your school, nursery, children's home or hospice. For more information please call Giuliana on 07791 977786 or alternatively send an email to info@therapiesforspecialneeds.co.uk.
Training
Following the enormous success and demand for my Rainbow Kids Touch Therapy Clubs ranging from ages 3 – 18 – it started out as one small group of primary age children and has now evolved to teenagers and young adults and children's homes as well as work with young offenders – I am very happy to announce that I am offering one day CPD/Instructor courses from 2018 for those wishing to train with me and set up similar schemes in their own areas.
Nurturing touch is such a scientifically proven part of our wellbeing and growth on all levels: emotionally, mentally, physically, academically and socially. Tests conducted since the 1950's have proven that animals that are touched and handled are physically healthier than animals that are not handled. They also have bigger brains, far greater social skills and healthier emotional bonding.
I teach researched studies and facts which prove how unlike IQ, emotional and social intelligence can be learned and grown and indeed we have specific areas of the brain that directly link in with this. For example, with reading and processing faces, empathy, social cognition, controlling behaviour, multi awareness, self awareness – the list is huge! Your heads will be bursting with knowledge and scientific facts in the most blissful and relaxed way – the best way to learn!
This CMA accredited course can be applied to nurseries, pre schools,  primary and secondary schools, children's homes  and special schools to name just a few. It would be wonderful in hospitals and hospices too, the possibilities are endless!
I teach massage techniques including creative and expressive massage, how to use massage to describe stories, songs, events and feelings (it is a fact that 80% of communication is actually non verbal), mindfulness, meditation, relaxation techniques, guided journeys, beautiful story cards and story telling with a whole magical difference for younger children. Although the children are learning science along with the "magic" and there is a structure, it is very driven by the children and their voices, encouraging their confidence, their emotional intelligence (EQ) their social intelligence/skills (SQ) as well as their academic productivity (IQ), unleashing their creative imaginations; all wonderful and beneficial qualities which will add to their performance within the classroom.
For older "children" and young adults, I teach massage for wellbeing, balancing, communication and expression, along with mindfulness, meditation, "older" guided journeys, physiology  and graphology. I also share a range of massage strokes that can be self-administered as a way to manage anxiety, be more productive and focused, become more self aware and to nurture their emotional, physical and mental wellbeing.
I collect everyone from a central meeting place at 9.00am and, after teas, coffees and introductions, the course starts promptly at 9.30am and finishes at 5.00pm. Certificates and lunch are provided along with a full manual including "lesson" plans, resources and further information.
Previous massage experience is helpful but certainly not essential. Come and share a completely gorgeous day and leave with your heads bursting with all the new techniques and knowledge but also blissfully relaxed having learned so much about yourselves too in a very relaxed and friendly environment.
The cost is £150.00 per person.
Please note that Rainbow Kids, Rainbow Kids Touch Therapy and Head Massage and Therapies for Special Needs is my protected work and it is only through training and certification with myself that links to my website are happily and proudly granted. This course enables the trainee to take this work into schools and centres but not to teach it as a course.
For more information and details including accommodation if needed,  please call me on 07791 977786 or email me at info@therapiesforspecialneeds.co.uk.
Early booking essential on this very popular course. Here are the dates for 2018:
8 February 2018
8 March 2018
21 April 2018 (Sat)
10 May 2018
28 June 2018
14 July 2018 (Sat)
18 August 2108 (Sat)
15 September 2018 (Sat)
13 October 2018 (Sat)
10 November 2018 (Sat)
15 December 2018 (Sat)