St Peter's First School,Williton – School Visit to the Therapy Chalet !
A VERY SPECIAL visit was made on 10th March 2020 when I had the HUGEST joy in sharing an entire morning with the"Happy Stars" from St Peter's First School in Williton. I have previously trained some of the staff here in Indian Head Massage for Special/Additional needs, Advanced Functional Massage and Rainbow Kids Instructor courses.
We all spent the most magical, valuable, expressive and deeply beneficial time exploring massage, story massage, kids' and special yoga, sensory and immersive meditation, mindfulness, sound therapy, positive affirmation games and empowering activities. I loved every single absolutely delicious moment. Can't wait for the next visit!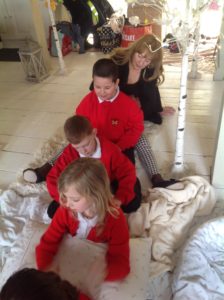 Trackback from your site.