Rainbow Kids Touch Therapy And Relaxation Instructor Course
This course is now also available Online under my shop.
A registered Learning Destination with The Children's                           University, this is an extremely special course to share, scientifically and neurologically proven ,researched and written with absolute passion.
I share this course from my beautiful therapy chalet  on Exmoor overlooking the sea. It feels just like a retreat!
I can also travel to teach this course with prior notice but please note my travel and accommodation must be covered please.
As with all my courses, you can never get rid of me as free ongoing mentoring and advice is available to you whenever you need it, from client advice to help with approaching a school, charity or organisation.
There is no time limit to this mentoring and I keep in regular touch as I develop new techniques to add to this continually growing work.
Continued and ongoing mentoring sessions after your training are important invitation so that this trademarked ,recognised and accredited therapy is kept within the criteria of the University.
This mentoring is also continued via an invitation to join the closed Facebook Group of Rainbow Kids Certified Instructors Community where new research ,activities and advice are continually being shared.
It also keeps us all growing within the therapy so that it can reach as many children as possible in the most effective and correct way. While we keep growing, so do the children and young adults we are working with.
The day something stops growing is the day to do something else !
Following the enormous success and demand for my Rainbow Kids Touch Therapy Clubs ranging from ages 3 – 18 , ( it started out as one small group of primary age children and has now evolved to teenagers and young adults and children's homes as well as work with young offenders ) I am very happy to offer this two day CPD/Instructor course for those wishing to train with me and set up similar schemes in their own areas/schools/specialist schools/acadamies/children's homes /community centres/youth offending teams/playgroups/ /nurseries/hospices ….
Once you have shared this course with me you are also warmly welcome, to take part in future course dates for just £80 for both days to refresh and add to your skills set as this work is always growing and expanding .
Any refresher courses with me are CPD certified .
I so want it to reach as many children and young adults as possible whether they are 'neurotypical' or differently abled.
The CMA will give you a 10% membership discount as I am a teacher/college member with them.
Nurturing touch is such a scientifically proven part of our wellbeing and growth on all levels : emotionally, mentally, physically , academically and socially. Tests conducted since the 1950's have proven that animals that are touched and handled are physically healthier than animals which are not handled. They also have bigger brains and far greater social skills and  healthier emotional bonding.
I teach researched studies and facts which prove how unlike IQ, emotional and social intelligence can be learned and grown and indeed we have  specific areas of the brain that directly link in with this, for example with reading and processing faces, empathy , social cognition, controlling behaviour , multi awareness, self awareness… the list is huge ! Your heads will be bursting with knowledge and scientific facts in the most blissful and relaxed way – the best way to learn !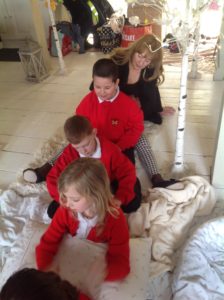 This CMA accredited course can be applied to nurseries, pre schools,  primary and secondary schools, children's homes  and special schools to name just a few. It would be wonderful in hospitals and hospices too …. the possibilities are endless!
I teach massage techniques including creative and expressive massage , how to use massage to describe stories , songs, events and feelings ( it is  a fact that 80% of communication is actually non verbal ! )  mindfulness, sensory,immersive and sensational  meditation, relaxation techniques, guided journeys,  beautiful story cards and story telling with a whole magical difference for younger children .
Although the children are learning science along with the "magic", and there is a structure, it is very driven by the children and their voices, encouraging their confidence, their emotional intelligence (EQ) their social intelligence/skills (SQ) as well as their academic productivity (IQ), and unleashing their creative imaginations…. all wonderful and beneficial qualities which will add to their performance within the classroom.kids yoga, positive affirmation pathways,mindfulness games and work with sound are also included.
For  older " children"  and young adults I teach massage for wellbeing, balancing ,communication and expression, along with mindfulness, meditation, visualisation "older" specifically  guided journeys , breath work,yoga,special yoga, sound therapy, colour therapy empowerment, mood cards ,as well as the sharing of massage strokes that can be self-administered as a way to manage anxiety, be more productive and focused, become more self aware and to nurture their emotional, physical and mental wellbeing,self awareness, interpersonal awareness ,self management and self regulation. i also show how these tools help build resilience to peer pressure and how new neurological pathways can be built.

Positive Growth Mindset therapy underlies everything. Art therapy,talk therapy as well as game therapy are also taught.

All of my work in the manuals comes with proven scientific research so that each trainee knows how to approach schools and organisations.
This CMA accredited course includes an enormous lunch and all refreshments as well as a massive manual including how to "access" every child , be invited into their world,along with lots of resources and further information.
Previous massage experience helpful but certainly not essential. Just come and share a completely gorgeous day and leave with your heads bursting with all the new techniques and knowledge but also blissfully relaxed and having learned so much about yourselves too in a very relaxed environment ……
Cost:
£300 per person for face to face training.
£250 per person via Live Zoom Link if travel is an issue.
£200 online learning course (see Shop)
Please note that Rainbow Kids, Rainbow Kids Touch Therapy and  Head Massage / Therapies for Special Needs  is my trademarked work and it is only through training and certification with myself that links to my website are joyfully and proudly granted ! This course enables the trainee to take this work into schools and centres but not to teach it as a course.
For more information and details including accommodation if needed,  please contact me at info@therapiesforspecialneeds.co.uk or on 07791 977 786
Early booking essential on this very popular course.
Accommodation :
The Cottage, High Street, Porlock, Somerset TA24 from £45 per night with a renowned breakfast 01643.862.996
Rosebank Cottage,High Street,Porlock, Somerset TA24 01643.862.728
Lovely annexe in Porlock; Treetops, 2, Hawkcombe View, Doverhay, Porlock,Somerset TA24 8NB (Sue). Tel 01643.862.312 or 07886 818063
Myrtle Cottage, High Street, Porlock TA24
Gorgeous Beachside Suites Minehead TA24 Call Steph 01643 818743
Beautiful Dunster Beach Huts Call Daniel 07561 699805
airbnb.co.uk Click on homes and then Porlock
There are also some wonderful camp sites nearby : Burrowhayes Farm 01643.862463, Sparkhayes Campsite,Porlock 01643.862470 and Porlock Caravan Park 01643 862269
 Face to Face Training DATES FOR 2023
This course can also be accessed via live ZOOM links both days .
4-5th February 2023 –   10am-5pm each day
22-23rd April 2023 10am-5pm each day
8-9th July 2023 10am-5pm each day
19-20th August 2023 10am-5pm each day
11-12th November 2023 10am-5pm each day
Full certification, the recorded Zoom link as well as extra diagrams, research and statistics will be sent onto ALL participants following completion of the course.
A gorgeously large fully illustrated manual packed with proven neuroscientific research, diagrams, activities and tonnes of ready -to- go resources will also be sent to you so that you are immediately prepared for your own sessions,  as well as how to approach schools and other organisations.
As with all my courses, you can never get rid of me as free ongoing mentoring and advice is available to you whenever you need it, from client advice to help with approaching a school, charity or organisaton. There is no time limit to this mentoring and I keep in regular touch as I develop new techniques to add to this continually growing work.
Early booking highly advisable or this extremely popular course as numbers are limited per date.
*See my shop to purchase the video course online*