Rainbow Kids Club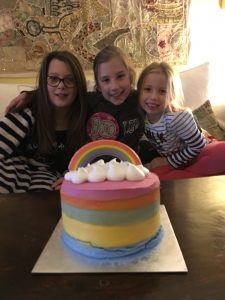 Mindfulness, magical meditations,touch therapy, guided journeys, story cards, story dice, relaxation, story massage, kids yoga and delicious cake!
Scientifically proven to boost focus, attention, communication, creativity,  social skills/intelligence, emotional intelligence ,physical,mental and emotional wellbeing and confidence …. which is then taken back into the home and the classroom ! Theraputic touch boosts not just our immunity but floods us with Serotonin , the "happy hormone ", Dopamine ,  the "pleasure hormone (which has proven links to the higher/executive brain functions) as well as  Oxytocin. ( the hormone of wellbeing and nurture, a huge antidote to stress and anxiety ).
80% of communication is not speech so Rainbow Kids is a safe and creative space where the child feels safe to express and create in so many ways.
Wednesdays 4pm – 5pm all ages …. You're never too young and you're never too old to join us in the chalet at the end of the rainbow .£5 per child.
Rainbow Kids is also fully portable and can come to your school , nursery , children's home or hospice.
One day Instructor Training courses available* ( see Trainings )

Trackback from your site.